Returns and Refund Policy
All passengers departing from and returning to ZIMBABWE are required to have:
A PCR COVID-19-free certificate issued within 48 hours of travel
Exemption for vaccinated travellers
Please check the requirements for your destination
PLEASE ENSURE CORRECT NAMES ARE GIVEN AS PER PASSPORT AT TIME OF BOOKING. NAME CHANGES ARE NOT PERMITTED AFTER THE TICKET IS ISSUED.
All fares are subject to availability and currency fluctuation
All prices are correct at time of publication
All quotes are instant purchase and only valid for the time when quote is done
Fares are not guaranteed until ticketed
Conditions and cancellation penalties may apply.
Ensure you have personally checked your passport validity, visa and health requirements
Pricing and itinerary details must be checked personally as Air Zimbabwe will not accept responsibility for any errors
Yellow fever vaccination card required if arriving within 6 days from an infected area
For all International &  Regional Travel:
- Passports must be valid for at least 6 months after the return date of travel.
- Passports must have at least 2-3 blank pages for visas and immigration stamps, or the passenger will not be allowed to board their flight.
Restrictions of Unaccompanied Minor acceptance:
Restrictive rules may apply for travel involving certain itineraries or itineraries that include other airlines. The following restrictive rules apply:
No Unaccompanied Minor under 5 years
No Unaccompanied Minor will be accepted if itinerary involves a connecting flight on other airlines or from another airline.
Minors travelling with parents and booked in different cabins will be required to pay the full Unaccompanied Minor fee
Unaccompanied Minor Handling Fees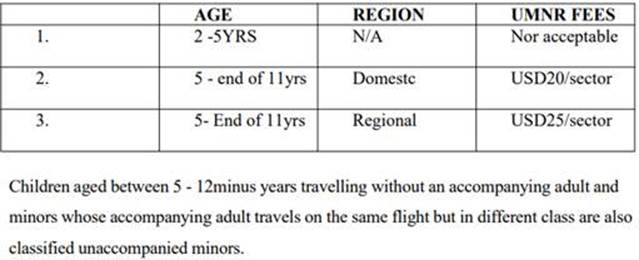 Reference Notes:
Children below the age of 5 years will not be accepted as unaccompanied minors.
Duly filled Unaccompanied Minor form is mandatory
For unaccompanied minors groups, unaccompanied minor fees will apply if group not accompanied by an adult. Otherwise, normal group policy will apply
Refunds
General Information
A refund of an Air ticket is the cancellation of a business, either by a passenger being a no-show, a flight being cancelled or delayed or unforeseen circumstances preventing a passenger to travel and is only to be processed by the airline that issued the original document. Any ticket or unused portion will be refunded in accordance with the applicable fare rules or tariffs.
Cash – cash is paid from the sales office to the passenger whose name is specified on the ticket or to the person (sponsor) who has paid for the ticket upon presentation of satisfactory proof of such payment. However if a ticket has been paid for by any person other than the passenger named on the ticket and the ticket indicates that there is a restriction on refund, we shall make the refund only to the person who paid for the ticket or to that person's order.
PENALTIES Cancellations, no-shows, changes and penalty charges will be in accordance with the fare rules
TURN-AROUND TIME OF REFUNDS The maximum waiting period on all refunds will be 1 month, except for lost tickets from the date that the passenger completed the claim form at the respective. Refunds received will be recorded on a daily basis, therefore it is very important to use the correct, legible date stamp or validator on receipt of a ticket to be refunded
You may be eligible for a refund on unused Air Zimbabwe tickets, depending on the type of ticket you purchased:
Unutilised non-Air Zimbabwe taxes, fees and charges imposed by government or other authority, or by the operator of an airport, are refundable.
At the time you purchase your Ticket, you will be advised of taxes, fees and charges not included in the fare, most of which will normally be shown separately on the Ticket. The taxes, fees and charges imposed on air travel are constantly changing and can be imposed after the date of Ticket issuance. If there is an increase in a tax, fee or charge shown on the Ticket, you will be obliged to pay it. Likewise, if a new tax, fee or charge is imposed even after Ticket issuance, you will be obliged to pay it. Similarly, in the event any taxes, fees or charges which you have paid to us at the time of Ticket issuance are abolished or reduced such that they no longer apply to you, or a lesser amount is due, you will be entitled to claim a refund. In addition should the Passenger not travel on a flight and they are holding a refundable or a non-refundable ticket they are equally to benefit from a refund of said applicable taxes, charges and other fees.
The refund can only be credited to the form of payment used to make the purchase. Refunds are issued in accordance with Fare Conditions.
For tickets bought from a preferred travel agent, please contact the agent directly to arrange your Booking Cancellation and Refund.
For tickets bought from our ticketing office, please visit any of our sales office or send an email to arrange your booking cancellation and refund.
The maximum waiting period on all refunds will be 1 month from the date that the passenger puts the claim, but please note that this does not include your own bank processing time.
All Refund Requests are subject to the rules of ticketed fare, and fees or penalties may apply to your Refund.
Request Refund due to flight cancellation or delays:
If Air Zimbabwe flight was cancelled and you did not take an alternative flight you can claim refund for the unutilised ticket/s.
If you cancelled your Air Zimbabwe flight because it was delayed for more than 8 hours, you can also claim refund for the unutilised ticket at no penalties.
Request Refund due to Death of a Passenger or due to Medical Reasons:
In case of the death of a passenger or cancellation due to medical reasons
Please note:
We only offer full refund for the 

deceased passenger only

.

NO REFUND 

for family members who were going to accompany the deceased prior to the travel or were with him when the passenger died - date change fee will be waived.
Air Zimbabwe refunds based on compassionate reasons are required to pay an administration fee per ticket of $50.00 on domestic tickets and $100.00 on regional tickets. 
Documentation Required on Processing Refunds based on compassionate reasons
In the event of a death of a booked passenger, a refund will be processed. A certified copy of the death certificate must be submitted along with the refund request.
If the date change waiver request is due to the death or illness of an immediate family member, the request must contain the name of the family member and their relationship to the passenger. In these circumstances, a certified copy of the death certificate with date change waiver must be submitted with the request.
In the event of hospitalisation of a booked passenger, a stamped medical certificate on a letterhead from a licensed physician confirming that travel was not recommended due to the passenger's illness, must be submitted along with the refund request or waiver of date change penalties.
We will not refund passengers whose flights are cancelled or delayed as a result of any incidents beyond our control including but not limited to an act of God, war, riots, embargoes, acts of terrorism, accidents, or any other causes, circumstances or contingencies beyond our control.
5.3  GROUP FARES
To qualify for a group quotation, a minimum of (ten) 10 passengers is required to travel together throughout the journey (i.e. from the point of departure to the final destination). In these cases, a group booking fee will apply, as determined by us from time to time.
5.5.1 GENERAL GROUP BOOKING RULES
Within 07 days of confirmation of reservation a non-refundable 20% deposit as group booking fee should be provided.  
15 days prior to departure full balance is required.
5 days prior to departure we will need all the passenger's names, and where necessary date of birth and passport information. Names should match travel documents.
Before ticketing, group downsizing is allowed but the proportionate deposit of downsized number is not refundable.
Before ticketing name changes are allowed with no penalties; after ticketing penalties apply.
No refund for passengers who cancel after ticketing.
Cancellation prior to departure 20% deposit to be forfeited.
We do accept group bookings less than 7days prior to departure, however passenger full names should be given and payment should be done simultaneously upon confirmation of the booking.
CHECK-IN DEADLINES
Check-in Deadlines are different at every airport and we recommend that you familiarise yourself with these Check-in Deadlines and honor them. Your journey will be smoother if you allow yourself ample time to comply with the Check-in Deadlines. We reserve the right to cancel your reservation if you do not comply with the Check-in Deadlines indicated. Check-in Deadlines for our flights can be found on our website, or may be obtained from us or our Authorised Agents.
BOARDING GATE REPORT TIME
You must be present at the boarding gate not later than the time specified by us when you check in. We may cancel the space reserved for you if you fail to arrive at the boarding gate in time.
FAILURE TO COMPLY
We will not be liable to you for any loss or expense incurred due to your failure to comply with the provisions of this Article.
ANIMALS
We reserve the right, at our absolute discretion, to refuse to carry any animals. If we agree to carry any animals they will be carried subject to the following conditions:
You must ensure that animals such as dogs, cats, household birds and other pets, are properly crated (or carried in a container complying with any applicable legal requirements) and accompanied by valid health and vaccination certificates, entry permits, and other documents required by countries of entry or transit, failing which they will not be accepted for carriage. Such carriage may be subject to additional conditions specified by us, which are available on request.
If accepted as Baggage, the animal, together with its container and food, shall not be included in your free Baggage allowance, but shall constitute excess baggage, for which you will be obliged to pay the applicable rate.
Service and emotional support dogs accompanying Passengers with disabilities will be carried free of charge in addition to the normal free baggage allowance, subject to conditions specified by us, which are available on request.
Where carriage is not subject to the liability rules of the Convention, we are not responsible for injury to or loss, sickness or death of an animal which we have agreed to carry unless we have been negligent. We will have no liability in respect of any such animal not having all the necessary exit, entry, health and other documents with respect to the animal's entry into or passage through any country, state or territory and the person carrying the animal must reimburse us for any fines, costs, losses or liabilities reasonably imposed or incurred by us as a result.